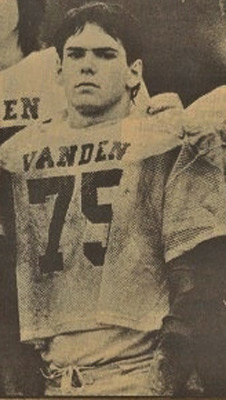 (Player Spotlight) - Jeff Rooney #55, Nickname - "Psycho" - [Trench Crew Captain] - Left Guard, Defensive Line and Specialty Teams. *Ironman Player. *Two-way Starter
I'm the author of the book, "We Took Names: The Time of Vikings, Friends and Family." I chose to tell our story because my friends, teammates, and coaches were lost to the dustbin of history. Though their jerseys said Vikings and Redskins, they were much more than that. They were giants, and their play was legendary. History should remember how they honored the game.
I was the starting left guard on the 1984 team. I was a Captain on the team and the leader of the Trench Crew, the offensive and defensive lines. I was the second smallest guy on the offensive line at 5'10", 185 lbs. Joe Leonard the left tackle towered over me at 6'4". I started on both sides of the line and on defense played nose guard, defensive tackle, or wherever they wanted me. I began playing football in 1980 on the Travis Redskins Pop Warner midget team, and we went undefeated and played for the California State Championship. I was a starting running back for the Redskins and played defensive end. I played on the 1982 undefeated and unscored-upon Vikings JV team as the right tackle and middle linebacker, and I was blessed to play on the 1984 Vanden Section Champs. The teams, my friends and I played on in 5 years went 45-4-2. My junior season I was the starting left guard and a middle linebacker. Three games into that season, I was seriously injured at Dixon on a blitz from my middle linebacker position. I was knocked unconscious with a head injury and unable to play again that year. The medical doctors did not want to clear me for my senior season and the school was worried about me incurring another head injury. Vanden, the athletic director, and Coach Bev were kind enough to purchase me an "air helmet" so I could play. It was the first of its kind at Vanden. I will always remember the memories we made in 1984, the friendships, the team, the play on the gridiron, the coaching and guidance, and the movie-character name calls we made at the line of scrimmage. I was honored and humbled to lead my friends and teammates of the 1984 12-0 Sac-Joaquin Section Champions, ranked #2 in California by Cal-Hi Sports. We took names. My nickname "Psycho" was given to me in 1981, my freshman year, by the JV football coach for my play on the gridiron, and the nickname followed me throughout my years playing football at Vanden. My game number was #55, the photo depicts me wearing #75, a practice jersey.
For any questions about our story, or the book, you can contact me - Here